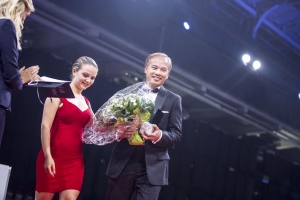 ELSINORE (HELSINGØR), DENMARK, 28 August, 2015 – Last night, Singaporean company Sky Urban Solutions, headed by Founder and CEO Mr Jack Ng received INDEX: Award 2015 – the world's biggest and probably most important design prize. The company won the top €100,000 prize for their low-carbon
, water-driven vegetable farm, the Sky Urban Vertical Farming System, the world's first of its kind.
The winners of INDEX: Award 2015 were unveiled at a spectacular award ceremony in Elsinore, Denmark, under the attendance of HRH The Crown Prince Princess of Denmark, along with a global audience of 1,300 of some of the greatest minds within the design realm. Sky Urban Solutions is honoured to be awarded this global recognition conferred by the INDEX: Design to Improve Life® organisation, for having a global impact in the creation of a future farm, transforming agriculture & enhancing liveable cities.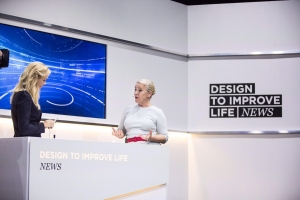 The international INDEX: Award Jury stated in its motivation that Sky Urban Solutions won INDEX: Award 2015 partly because "it is a powerful example that represents the next generation of sustainable urban agriculture, and has proven that vertical farming can compete with, and produce better results than traditional farming". A total of 1123 nominations were received from 72 countries competing in the Body, Home, Work, Play&LEARNING and Community categories of the INDEX: Awards. Sky Urban Solutions topped the COMMUNITY category.
"The jury found five winners who all brilliantly illustrated how design could be a decisive factor when addressing the world's most pressing challenges like pollution, health issues, climate change, over population, poverty, food waste, and many more equally important challenges. The Sky Urban Vertical Farming System is a perfect example of this and promotes exactly the purpose of INDEX: Award," said Ms Kigge Hvid, CEO of the INDEX: Design to Improve Life® organization, who founded the prize 10 years ago.
"By design, we are part of a very fragile and dynamic eco-system and the process of perfecting our system to meet ever-changing circumstances is never-ending. We've never stopped. I will not stop, and I hope that this recognition will inspire others, the young designers, architects, engineers and entrepreneurs to continue on this intriguing and deeply satisfying journey to make this world a better place, by design," said Mr Jack Ng, Founder and CEO of Sky Urban Solutions. Jack is also the first ethnic Chinese to win the INDEX: Awards.
Sky Urban Solutions and its wholly owned subsidiary, Sky Greens Vertical Farm would like to thank the Agri-Food & Veterinary Authority of Singapore (AVA) for the joint public–private sector collaboration in prototyping the vertical systems in the early phase of development; SPRING Seeds Singapore for providing seed funding support during the start-up days; International Enterprise (IE) Singapore for their support of the investment in intellectual property (IP) patents; and the Singapore Ministry of National Development, for recognizing Sky Urban Solutions' R&D efforts with the conferment of the "Minister for National Development, R&D award 2011 ( Merit Award) for Vertical Farming".
For more information on Sky Urban Solutions and Sky Urban Vertical Farming System, please refer to ANNEX A.
For more information on INDEX: Award 2015 and the INDEX: Design to Improve Life® organization, please refer to ANNEX B.
Please direct all media enquiries to:
Yvonne Sim (Ms)
Sky Urban Solutions Holding
Tel: +65-6898 4858
Email: yvonne_sim@skygreens.com
Roshe Wong (Mr)
Sky Urban Solutions Holding
Tel: +65-6898 4858
Email: roshe_wong@skygreens.com
Lars Bogeskov (Mr)
Head of Press and Communication
INDEX: Design to Improve Life®
Tel: +45 22 36 31 38
Email: lb@designtoimprovelife.dk
About Sky Urban Solutions
Sky Urban Solutions has its roots in Sky Greens, the innovator and builder of the world's first low carbon water-driven vertical farming system. Under the leadership of Founder and Innovator Mr Jack Ng, the company grew from a small start-up in 2009, to an international enterprise focused on providing urban solutions to world cities to meet the needs of a rapidly urbanizing globe. Sky Urban Solutions endeavors to become the world leading solution provider for integrated, sustainable and green urban agriculture technology.
More information can be found on www.skygreens.com
About INDEX: Design to Improve Life®
Started in 2002, INDEX: Design to Improve Life® is a Danish NPO with a global reach to inspire, educate and engage in designing sustainable solutions to global challenges. The INDEX: Award was created in 2005 and financed by the state of Denmark to recognize the world's most successful and impactful designs that are capable of improving people's lives and change the world.
Read more about the INDEX: Award 2015 and the INDEX: Design to Improve Life® organization at www.designtoimprovelife.dk.