FARM TOUR
Share the experience with us for a Singapore's Vertical Farm tour.
Tours can be customized based on primary or secondary school level.
Each tour may include a sowing project that everyone takes home, an educational farm tour, harvesting and a tasty organic vegetable snack!
http://www.skygreens.com/farm-tour/
让我们一起游览SKYGREENS。
没有农药和化肥的农场。
土壤种植的蔬菜。
吃得健康!
吃的开心!
SKYGREENS FARM…
Let have a tour at SKYGREENS. A farm without pesticide and chemical fertilizer.
All our vegetable are grown in soil.
Contact :
Email : info@Skygreens.com
TEL : 6898 4858
SALES OF VEGETABLES:
MON-FRI  – 8:30AM – 5:00PM
SAT           – 8:30AM – 12:00PM
Zao Bao : 16 June 2018
早报 : 16日6月2018年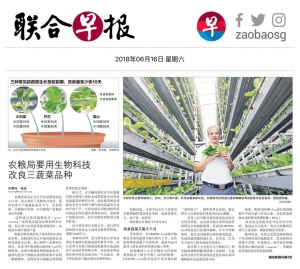 MINI SERIES NOW AVAILABLE